It should be completely unsurprising that the first weekend of boxing after almost 2 months of no shows should bring us another score card controversy. In a card where the story should have been about one of the biggest upsets in recent boxing history, Mauricio Lara beating Josh Warrington by ninth round stoppage, the talk among the "hardcore" fans was focused on the bout between Zelfa Barret and Kiko Martinez.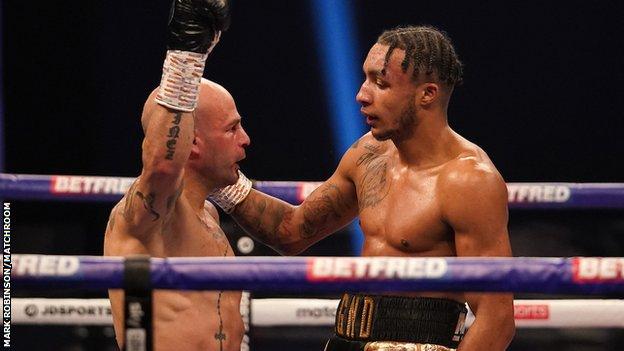 Now, no one other than those with an ardent anti Matchroom agenda (a brief peruse of boxing twitter will show you there are many) can claim that Martinez was robbed in that fight. In what was a very close fight that very literally could have gone either way, Zelfa was ultimately declared the winner. The issue that was outlined by Sky in the immediate aftermath to the fight, and by many members of the print and online boxing media is just how wide two of the three scorecards were. One judge had the bout 116-113 in favour of Barrett while the other two were even wider with 118-111 for the Manchester fighter. 
Although I must agree with many of the aggrieved twitter soldiers in that 118-111 is doing Martinez a horrible disservice (I personally had it 115-113 in favour of Barrett), I found myself getting quite irked by the constant insistence by some that the wide scorecard "did not reflect the fight". Judges do not watch the whole fight and then give a judgement as to who they think took it. It is not their job to give a broad overview of how the fight played out. Rather they are tasked with individually scoring rounds with the winner of most rounds taking the fight (apologies for preaching to the converted here but I feel it needed to be said). This means that in theory, a fighter can win 12 close rounds in a massively competitive fight and the scorecards would read that it was a shut out, the same as if the same fighter had completely embarrassed his or her opponent over 12 rounds.
In recent history we can point to fights where the scorecard didn't reflect the fight. Callum Smith vs George groves was level on the scorecard at the time that Smith floored him with a body shot, but most people would accept that Smith was in control in that bout. As recently as last weekend, Josh Kelly's defeat against David Avanaessyan by TKO in the 6th round came at a time where if you were to look solely at the scorecard, it'd be easy to believe that the stoppage was against the run of play, rather than the reality being that Avanessyan tactically gave away the early rounds but was slowly wearing down his opponent. The scorecards simply don't tell that story.
The "ten must" scoring system isn't designed to tell the story of the whole fight, and therein lies the fundamental cause of people's frustration. How can it be that in a fight where one fighter clearly dominates an opening round and is then edged in a highly competitive second round, that fight is now level? This shows a fundamental flaw in how our sport is scored and it is at this system that boxing fans need to aim their frustration, not officials who score a bout differently to them.